Why Score
"Recruiting Great Talent IS a Contact Sport…Play…SCORE…Win!"
COMING TOGETHER = A BEGINNING
Many companies today are faced with the challenge of identifying and keeping high-performing employees. Score Recruiting Solutions knows that hiring and retaining quality candidates can have a huge impact on a company's success. To compete in today's global market, factors such as increased communication among customers and co-workers from different cultures, the necessity of working in international teams, and the growing dependence on cutting-edge information need to be considered during the hiring process.
Having an effective approach to identifying diversity talent is one way to improve your organizational outcomes.
With over 50 years of combined search consultant experience working with major corporations, Score Recruiting Solutions' client-focused search approach has proven successful.
---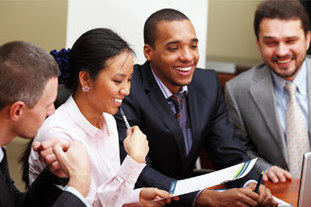 KEEPING TOGETHER = PROGRESS
A winning team has the right balance of chemistry, team spirit, talent, and coaching. Building strong and dependable partnerships with our clients is at the core of what we do.
Collaboration is absolutely essential. The strongest partnerships are built on a firm foundation of trust, mutual respect, and open, honest communication where each party speaks openly and the other party listens.
Utilizing a consultative approach that focuses on your individual needs as a client and your most critical issues and opportunities helps solidify the Teaming Relationship that gets you the results you desire.
Clients can expect a unique and fresh perspective as Score Recruiting Solutions demonstrates its functional expertise.
---
WORKING TOGETHER = SUCCESS
Relationships are the cornerstone to any successful business venture. Score Recruiting Solutions works closely with each client to nurture rewarding relationships.
By working together in real partnership, valuing the opinion of one another, and maintaining consistent communication that moves freely in both directions, Client and Candidate realize the true benefits of Score Recruiting Solutions.
Some people dream of success. Score Recruiting Solutions is here to make it happen.
WHAT WE VALUE
 

Stewardship – Feel confident that your account will be managed professionally
       ✓   SCORE appreciates your business 

Integrity – Expect courteous communications that will be held in confidence
       ✓  SCORE maintains high moral character and always acts in your best interest

Competency – Clearly differentiate SCORE's expertise and abilities to meet your needs     
      ✓   Your SCORE Recruiting Team is a group of highly qualified specialists in their specialized areas of talent management

Teamwork –Expect dedication to serving your needs and assisting you in achieving your Talent
      ✓  Works with you as an extension of your hiring staff to ease the Talent Management challenges

Commitment – Expect dedication to serving your needs and assisting you in achieving your talent management goals.
      ✓  SCORE is committed to fulfilling your needs, providing you with amazing Client Service, and surpassing your presumptions

Diversity – Trust SCORE to actively engage in recruiting for you the best diverse talent in all areas of SCORE's specialties
      ✓  Understands and cultivates diversity internally and in service to you

 

 
"SCORE…Your Game-Changing Recruiting Solution"